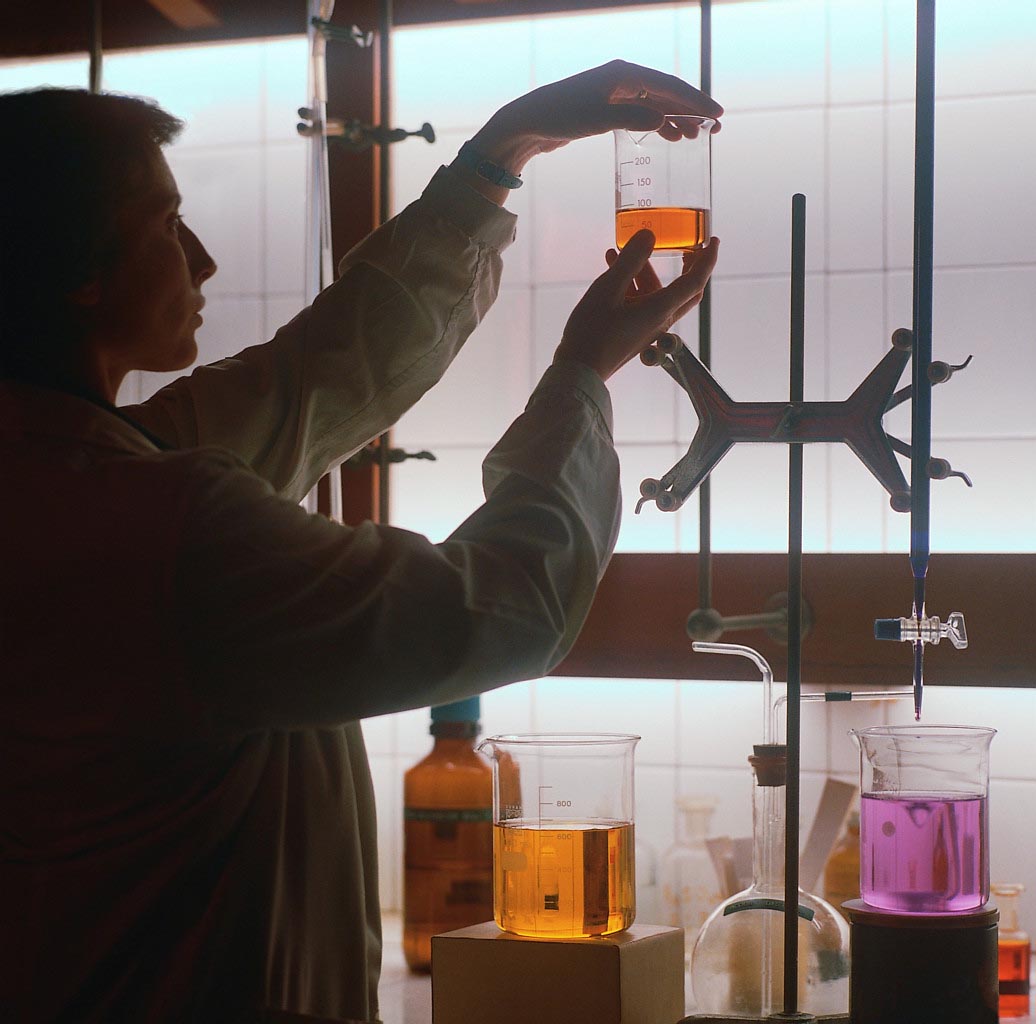 Do you need to have wine samples analyzed for total acidity (TA), pH, free SO2, volatile acidity (VA) or other winemaking parameters and possibly wine faults, but don't have the expertise or resources? Or perhaps you need an independent, expert opinion to determine if your wine is competition-ready?
You can now call upon Daniel Pambianchi's wine analysis services and have wine samples measured for a variety of enological parameters as well as assessed for overall quality. Along with analytical results, our assessment reports also include a list of recommendations for either improving your wine or addressing any faults detected. View a sample report and the Wine Assessment Scoresheet used to determine competition readiness.
All prices are listed in Canadian (CAD) dollars. Please be sure to read ordering and payment and shipping instructions carefully, and what the results include.

NOTE: You will need to click on the "Add to Cart" once for each wine sample being submitted, or you can enter the desired quantity in PayPal after you have clicked the "Add to Cart" button once. You can view and edit your cart at any time by clicking on the "View Cart" button above.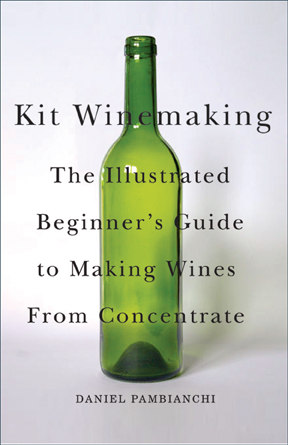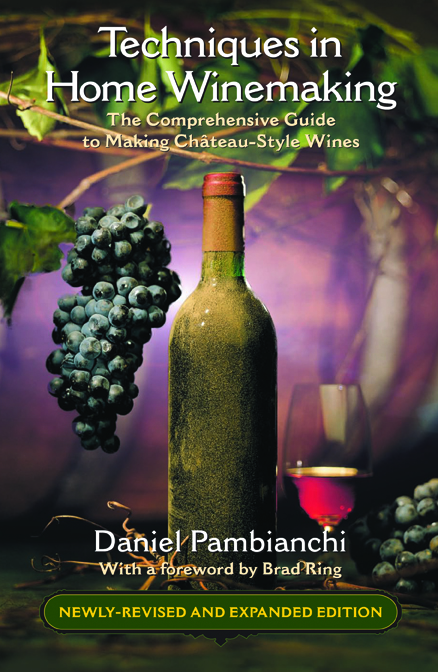 Learn how my home winemaking books can help you, or visit Daniel Pambianchi's blog.
Total acidity, or what is the technically correct term, total titratable acidity, is an important parameter because it is what gives life or freshness to wine; if it is too low, the wine can be thin and flabby, and if it is too high, the wine can be sour. And acidity should be in harmony with other elements, namely, sweetness and astringency, for a balanced wine.


Total titratable acidity (TA) is a measure of the concentration of organic acids in juice and wine. Since all acids are factored into the TA measurement and not all have the same chemical properties, a reference point is used to qualify the measurement. In North America, tartaric acid—the acid of greatest enological significance—is used as the reference whereas Europe uses sulfuric acid. This means that, in North America, the TA value represents acid concentration as if it were all tartaric acid.


TA should ideally be measured in the juice to allow making acid adjustments prior to initiating alcoholic fermentation, in the wine post alcoholic fermentation and malolactic fermentation, and following any important winemaking operations such as blending or acid reduction.


TA is measured in g/L of juice or wine, or it can be expressed as a percentage where 1 g/L represents 0.1% acidity.


TA is determined by titration, and we use both visual confirmation and pH monitoring to determine the titration end point. Measurements are provided to the nearest tenth of a g/L and expressed as tartaric acid equivalent.


pH is a measure of the strength of acids and which provides an indication of the chemical stability of juice and wine. Water has a theoretical pH value of 7; anything less is acidic, anything higher is basic (alkaline). The pH of grape juice and wine are generally in the range 3.0–4.0. The higher the pH, the less chemically and microbiologically stable the wine will be, and therefore the more sulfite will be required to protect the wine.


Lisa Van de Water of the Wine Lab at Napa best summarized the importance of the effects of pH on wines, as reported by Donald E. Gauntner in the American Wine Society Journal, Winter Issue, 1997.


"At lower pH, red wines are redder, fresher, fruitier, younger tasting for their age, slower to age, slower to mature, less complex, less full-bodied, much slower to spoil, and easier to maintain free of spoilage in the cellar because the SO2 is more active at the lower pH."

"Higher pH wines, if they are red, are less red (sometimes brown, sometimes purple), less fresh, less fruity, more complex, more full-bodied, faster to age, faster to mature, easier to spoil, and more difficult to manage in the cellar with SO2."


pH should ideally be measured at a minimum at the same time as when measuring TA. Given the potential of microbial spoilage, which can ruin a wine, it is strongly recommended to monitor pH on an ongoing basis, particularly if it is known to be high.


pH is determined using a pH meter and is expressed as a unitless measure. Measurements are provided to the nearest one hundredth.


SO2 has long been used in winemaking as a preservative against oxidation and microbial spoilage. It can exist in free or bound form: The free form, or free SO2, is one of the most basic and most important parameter in enology and is used to measure the level of protection in wine. As free SO2 combines or reacts with other compounds, it becomes bound and is no longer available for protection.


The sum of free and bound SO2 is known as total SO2. Home winemakers generally need not be concerned with total SO2 except for unusual situations or special cases; for example, malolactic bacteria used for initiating malolactic fermentation are very sensitive to total SO2. In commercial wines, federal or wine regulatory agencies impose a maximum allowable level.


Free and total SO2 are expressed as a concentration in mg/L, or in parts per million (ppm), where 1 ppm is equivalent to 1 mg/L.


In general, for a "healthy," dry wine, we recommend maintaining a free SO2 level of approximately 35 mg/L, and should be monitored constantly throughout winemaking up until bottling. Our analysis will provide a recommended free SO2 level based on the overall chemistry of the wine.


We use the aeration-oxidation method, which is much more accurate than Titrets, and measurements are provided to the nearest unit in mg/L.


The percent alcohol in wine represents the amount of ethanol (ethyl alcohol) produced from sugar fermentation. An estimate of alcohol concentration, or potential alcohol (PA), is known based on the hydrometer reading prior to the alcohol fermentation: If all the sugar is fermented, the alcohol concentration is approximately equal to the PA measurement; otherwise, if there is some residual sugar, the final alcohol concentration will be lower.


%alcohol is usually measured at the end of the alcoholic fermentation to confirm the PA measurement to ensure dryness—although this is not a guarantee unless a residual sugar test is performed—and to ensure the desired wine style has been achieved.


%alcohol can be expressed as a percentage of the weight or volume of alcohol to the total volume of wine; the common practice is to use the percent volume by volume of wine, and is expressed as %alc/vol. It is often simply expressed as %alc or even %, where it is implied that it is a volume/volume measurement.


%alc/vol is determined by ebulliometry, and measurements are provided to the nearest tenth of a percent.


Residual sugar (RS) represents the amount of (mainly) unfermented sugar in wine, and defines the style of wine—that is, for example, dry, off-dry, semi-dry, or semi-sweet. RS is indicative of the level of sweetness, although the perception of sweetness might well be influenced by total acidity, alcohol, and astringency.


RS is expressed in g/L, or as a percentage, where 1 g/L is equivalent to 0.1%


Generally, a wine with less than 0.2% RS is considered dry. Various winemaking regions use different ranges to map RS values to "dryness" terminology; for example, a wine with 0.4% RS might be considered off-dry.


It is critical to measure RS prior to bottling, not only to ensure that you are bottling the desired style, but more important, that adequate winemaking measures have been implemented to guard against any residual sugar in the wine. Residual sugar in what is expected to be a dry wine and which has not been protected with potassium sorbate can most likely start refermenting in the bottle. In the worst case scenario where the wine has not been sterile filtered, the wine is highly susceptible to microbial spoilage.


Currently, we only support the Clinitest method for determining RS. Measurements are provided to the nearest percent.


A small amount of residual carbon dioxide (CO2) remaining dissolved in the wine is necessary to maintain freshness and balance, as well as help volatizing aromas. Every style of wine has ideal residual CO2 content ranges, which depends on wine chemistry—namely, acidity, and polyphenolic and alcoholic concentrations—and the winemaker's preference.


Residual CO2 is expressed in mg/L.


Recommended typical ranges prior to bottling are: 200–500 mg/L for aged, red wines and 500–1800 mg/L for lighter reds and white wines. Above these levels, not only will there be a tingly sensation, but there will be an increase in acidity due to the higher carbonic acid of carbon dioxide gas. Higher acidity can then disrupt the wine's balance by making the wine seem overly dry or, in the case of reds, it can increase polyphenolic bitterness.


This test is performed by volumetric reduction using a Veitshoechheim CO2 cylinder.


Malolactic fermentation (MLF) refers to the conversion of the sharper-tasting malic acid to the softer lactic acid. Malic acid is a natural acid found in grape juice. MLF is often used to craft a specific style of wine, for example, a rich, buttery Chardonnay, or to reduce total (titratable) acidity. It is also important to determine a wine's stability against malolactic bacteria that can start an MLF unexpectedly. A wine which has not been adequately protected against unwanted MLF, either by malolactic bacteria or spoilage lactic acid bacteria, is said to be chemically unstable. The wine can be made to be stable through judicious use of sulfite, ideally in combination with sterile filtration.


The extent of MLF completion is determined by paper chromatography by evaluating the concentration of malic and lactic acids present in a wine sample compared to control concentrations. As the test results require visual analysis, only qualitative and approximate measurements can be provided.


As in TA determination, the concentrations of malic and lactic acids are provided in g/L or %.


We can also provide, upon request, the approximate concentration of citric acid.


As the name implies, volatile acidity is, well, volatile, and that means that it can be smelled. In wine, acetic acid (vinegar) is the main component of VA, which, as anyone knows, can be smelled quite easily even at low concentrations, usually starting at 1 g/L (0.1%).


VA is caused by a group of spoilage bacteria, known as Acetobacter aceti (A. aceti), or simply Acetobacter or acetic acid bacteria, which feed on alcohol to produce acetic acid. A common culprit of the bacterium is the dreaded fruit fly, commonly pervasive around winemaking season. Another common cause is excessive exposure to air, or oxidation. A very small concentration of ethyl acetate can also develop, which is detectable as an off-putting aroma of nail polish remover at higher concentrations, and so, VA is definitely a problem to be avoided in winemaking.


VA is measured in g/L of wine, or it can be expressed as a percentage where 1 g/L represents 0.1% volatile acidity.


VA is determined by the Cash still method; measurements are provided to the nearest tenth of a g/L.


Turbidity refers to the extent of colloidal matter, or particles in suspension, that affects clarity in wine, and is indicative of incomplete fining, filtration, or instabilities, such as protein instability, or all. Excessive proteins, particularly in white wines as well as fruit and country wines, is a common problem even in properly fined or filterd wine.


Turbidity is measured using a turbidimeter, or nephelometer, where a light source emits a ray of light through a lens and through a cell containing a sample of juice or wine.


Turbidity is expressed in NTUs (Nephelometric Turbidity Unit).


Red wine should have a turbidity of less than 10.0 NTU, while white wine should be less than 5.0 NTU; however, it is generally recommended to target a level of less than 2.0 NTU in most typical wines.


Cold stability is a measure of the chemical stability of wine against cold temperatures. A wine that is not cold stable may throw tartrate crystals—the result of tartaric acid precipitation—in the bottle if the wine is kept in cold storage. Although tartrate crystals are not considered a wine flaw, the sight of the crystals may be perceived as a winemaking shortcoming.


The most effective method to process wine for cold stability is by chilling. In a home winemaking context, this requires timing this procedure with a spell of extended cold weather.


The most accurate method of measuring cold stability is by measuring the change in electrical conductivity of a wine sample, using a conductivity meter, by seeding the sample with potassium bitartrate and holding the temperature at a pre-determined level (depending on the type of wine).


Cold stability is measured as a percentage of change between the end and the beginning of the test. Results include the percent change, the temperature the test was performed at, and whether the sample is cold stable.


Protein stability is a measure of the chemical stability of wine against proteins and hot temperatures.


Proteins are very complex amino acids generally found in relatively high concentrations in grapes, and remain soluble in white wine whereas tannins and color pigments in red wine will cause proteins to precipitate. Protein concentration in white wine is therefore higher than in red wine.

Proteins are very sensitive to heat (think of egg white changing from colorless to white when heated) and, in wine, they can coagulate and cause a haze when temperature starts rising. This is obviously a problem when the wine is bottled. The extent of haze depends on temperature and on the concentration of proteins, which can change throughout vinification due to changes in such factors as alcohol concentration, temperature, and pH.


The most effective method to process wine for protein stability is by bentonite fining.


Protein stability determination is accomplished by performing a heat stability test, which consists of subjecting wine samples to various temperatures for various durations.


Results simply state whether a wine sample is protein/heat stable.


Excessive copper in wine can cause a wine to become cloudy in what is known as copper haze. The wine can also throw a reddish-brown precipitate. More important, copper can have health implications and it is generally required that copper content to be below 0.5 mg/L.


Copper in wine can originate in the vineyard from excessive use of copper-based sprays or harvest too close to spraying applications, from the use of non stainless steel equipment, such as copper or brass, for processing wine, or from excessive addition of copper sulfate (CuSO4) to treat problems such as hydrogen sulfide (H2S).


Color and total phenol content are particularly important parameters in red winemaking. The tests can be performed for both white and red wines.


Color measurement provides indications of anthocyanins and polymerized phenolic compound content to assess color or to identify potential problems related to color compound content.


Total phenol content measurement provides indications of phenolic maturation, and expected astringency and bitterness.


Yeast Assimilable Nitrogen (YAN)


Yeasts need a complex range of nutrients to carry out the alcoholic fermentation and impart the intended organoleptic properties. Nitrogen is one of the most critical nutrients, and its concentration (measured in mg/L) can often be too low in juice, which can cause fermentation problems, such as a stuck fermentation or H2S production, and possibly result in off-aromas and flavors. The major YAN components are ammonium salts and α-amino acids.


A Wine Quality Assessment involves tasting wine samples and assessing each for color and clarity, aromas and bouquet, flavors, balance, finish, quality, and overall impressions, and identifying any faults. The evaluation is performed by a panel of experienced winemakers who will score the wine on a 20-point scale using criteria similarly used in amateur wine competitions. This assessment provides an opinion of how the wine can be expected to perform at amateur competition. Take a look at the assessment criteria in the Wine Quality Assessment Scoresheet.


Results include a copy of the scoresheet with comments and recommendations, as appropriate, to address any faults or potential enhancements.

Ordering and Payment Instructions

All prices are in Canadian (CAD) dollars. To place and pay for an order:
Use your existing PayPal account, or



First sign up for a new PayPal account and then return to this page to place your order, or

Complete the online form, and we will contact you regarding payment methods.

NOTE: You will need to click on the "Add to Cart" once for each wine sample being submitted, or you can enter the desired quantity in PayPal after you have clicked the "Add to Cart" button once.

Please email me once you have placed an order so that I know when to expect your package and so that I have your email address to communicate results; otherwise, results will be mailed by snail mail.

Tests will be performed and results communicated only once payment has been received and has cleared.

Back to Top
Shipping Instructions
I require a 375-mL (half-bottle) sample of each wine in a shatterproof container for all individual tests, except for the Sensorial Analysis, and the Basic Package. I require a 750-mL (standard bottle) sample for the Sensorial Analysis and the Plus/Comprehensive Package.

Pack the bottle(s) very carefully in bubble wrap and a carton box, and ship to the following address:

Daniel Pambianchi
16 Blue-Jay St.
Dollard-des-Ormeaux, Quebec
CANADA H9A 3H3

Please be sure to clearly label the package as TEST SAMPLES. Verify with your preferred carrier regarding restrictions on shipping alcohol. You are assuming all shipping responsibilities and costs; I cannot assume any responsibility for lost or broken packages, or for any packages returned due to incomplete shipping documentation. I cannot return any unused wine samples.

Back to Top
Results will include the following:

A measurement of the requested parameter(s) to be tested, as outlined in the respective tests,




A Wine Quality Assessment using a 20-point scale, where this test is requested, and



A list of recommendations based on test results and any identified fault(s). View a sample report.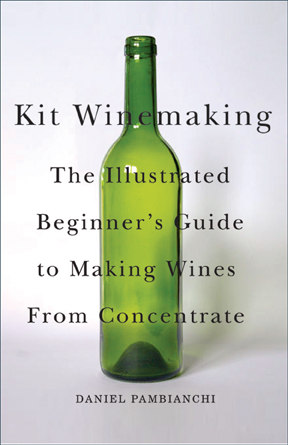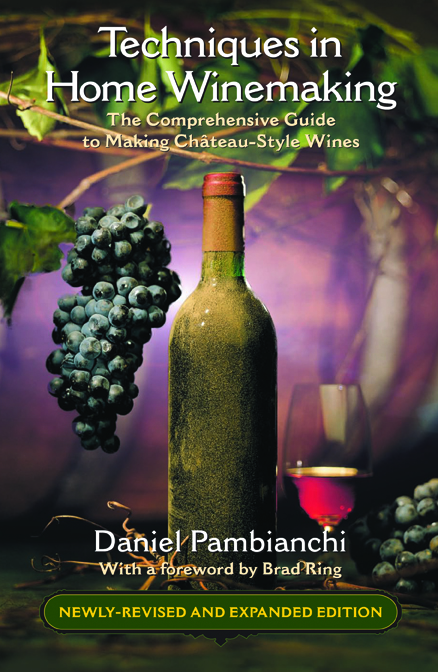 Order these winemaking books from home winemaking expert Daniel Pambianchi.